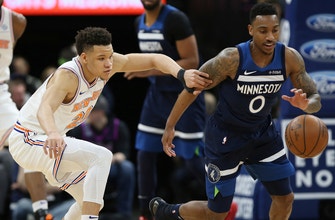 [FOXsports] Gibson scores 25 as Wolves, without Towns, top Knicks 103-92
(Sunday, March 10, 2019 10:29:39 PM)


Gibson scores 25 as Wolves, without Towns, top Knicks 103-92
[NYDN] Knicks squander shot against Towns-less Timberwolves
(Sunday, March 10, 2019 8:20:00 PM)


MINNEAPOLIS — The Minnesota Timberwolves got virtually nothing from their top three scorers on Sunday night. Thanks to their depth, it wasn't a problem.

Taj Gibson scored a season-high 25 points, Jeff Teague added 20 points and 10 assists, and the Timberwolves beat the New York Knicks 103-92 despite…
[NYPost] Sloppy Knicks don't learn lesson as slide continues
(Sunday, March 10, 2019 6:35:28 PM)


MINNEAPOLIS — The Timberwolves were without their two young stars Karl-Anthony Towns and Andrew Wiggins — which gave the Knicks a golden opportunity to snap a five-game losing streak Sunday. But as owner James Dolan has said previously, the Knicks have no stars and were pummeled anyway in a sloppy 103-92 decision at Target Center,…
[NYPost] Frank Ntilikina's eventual return gets clearer — and more daunting
(Sunday, March 10, 2019 4:50:04 PM)


MINNEAPOLIS — The Knicks ruled out second-year guard Frank Ntilikina for their three-game road trip, a trek that started with a 103-92 loss to the Timberwolves on Sunday night. That means the earliest he will return will be next Sunday's home game versus the Lakers. After evaluating him Saturday, the Knicks announced he would start…
[NYPost] James Dolan can do a lot more damage than petty fan threats
(Sunday, March 10, 2019 11:07:46 AM)


A Garden spokesman would not elaborate on whether Saturday's latest heckler of owner James Dolan would be banned from the Garden — a la Charles Oakley and Mike Hamersky. You remember Hamersky? In April 2017, the lawyer from Queens screamed at Dolan outside the Garden to sell the Knicks. Dolan cursed him out, security got…
[ESPN] Knicks' Dolan has fan held after 'sell' comment
(Sunday, March 10, 2019 11:27:25 PM)


New York Knicks owner James Dolan instructed security to detain a fan who told him to "sell the team" after Saturday's loss to the Sacramento Kings at Madison Square Garden.
[SNY Knicks] Knicks takeaways from Sunday's 103-92 loss to the Timberwolves
(Sunday, March 10, 2019 10:13:33 PM)


The Knicks' losing streak reached six games as New York lost to the Minnesota Timberwolves 103-92 on Sunday at Target Center.
[SNY Knicks] Knicks' Frank Ntilikina making progress from groin injury
(Sunday, March 10, 2019 9:03:15 PM)


Knicks second-year guard Frank Ntilikina is improving from a groin injury that has kept him out since January and will be re-evaluated once New York returns from its three-game road trip.
[SNY Knicks] James Dolan's reputation may have dissuaded Steve Kerr from taking Knicks job: report
(Sunday, March 10, 2019 3:53:48 PM)


According to Marc Berman of the New York Post, James Dolan's influence over the Knicks was a potential reason Steve Kerr spurned Phil Jackson's offer to coach the team in 2014.
[SNY Knicks] NBA-worst Knicks face Timberwolves, Sunday at 8 p.m.
(Sunday, March 10, 2019 12:38:39 PM)


A little over two weeks ago, Karl-Anthony Towns missed the first game of his career and the Minnesota Timberwolves found a way to beat the New York Knicks.