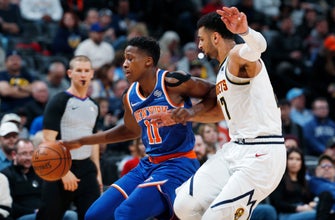 [FOXsports] Jokic's triple-double helps Nuggets beat Knicks 115-108
(Tuesday, January 01, 2019 11:41:17 PM)


Jokic's triple-double helps Nuggets beat Knicks 115-108
[NYDN] Knicks lose eighth straight and Denver woes continue
(Tuesday, January 01, 2019 9:00:00 PM)


Nikola Jokic's teammates are definitely hard to impress.

He bounced a rebound off a player as he's falling out of bounds and later delivered a no-look pass that completely froze a defender. He also finished with a triple-double.

"Another day at the office," Gary Harris said. "That's what he does….
[NYPost] Unlike Enes Kanter, Knicks vet takes his benching in stride
(Tuesday, January 01, 2019 9:02:50 PM)


DENVER — Courtney Lee is behaving like the anti-Enes Kanter. Knicks coach David Fizdale said it appears his early attempt at raising Lee's minutes are over and the 33-year-old veteran shooting guard finds himself out of the rotation. Instead of squawking, Lee is trying to help the young guys and even mentioned staying ready in…
[NYPost] Where Enes Kanter stands after heart-to-heart with Knicks GM
(Tuesday, January 01, 2019 8:24:03 PM)


DENVER — Enes Kanter said after the Knicks' eighth straight loss late Tuesday he met with Knicks general manager Scott Perry on New Year's Eve for a heart-to-heart to express his frustration with the losing and his diminishing role, but clarified he has not asked to be traded. Kanter came off the bench for the…
[NYPost] Knicks inch closer to NBA's worst record despite better effort
(Tuesday, January 01, 2019 6:47:37 PM)


DENVER — There was a throwback game from Enes Kanter, a promising offensive showing from a drive-and-attack Kevin Knox and an overall competitive zeal that saw the Knicks within four points in the final four minutes. The Knicks came back to life after Saturday's embarrassment in Utah, leading the Nuggets after three quarters Tuesday night….
[NYPost] 'Amazing' snow, return soon: Knicks' Mitchell Robinson is learning
(Tuesday, January 01, 2019 11:59:57 AM)


DENVER — Mitchell Robinson hasn't played on this six-game western trip, but it's still been a journey of firsts. In Utah, the 20-year-old rookie center saw snow in person for the first time. In Denver on New Year's Eve, he experienced his first snowfall. He's not your typical NBA rookie. "Yeah. It was my first…
[NYTimes] Nuggets 115, Knicks 108: Nikola Jokic's Triple-Double Powers Nuggets Past Knicks
(Wednesday, January 02, 2019 4:52:21 AM)


His passes were pretty but Jokic's 3-pointer with just under 3 minutes remaining essentially sealed the Nuggets' ninth straight win at home.
[SNY Knicks] Knicks' Enes Kanter says he has not asked for trade
(Wednesday, January 02, 2019 12:31:25 AM)


The frustrated Knicks center likes it in New York but also wants to win.
[SNY Knicks] Knicks takeaways from Tuesday's 115-108 loss to Nuggets
(Wednesday, January 02, 2019 12:11:40 AM)


The Knicks were more competitive than against the Jazz but still came up short in the fourth quarter.
[SNY Knicks] Knicks try to stop seven-game losing streak against Nuggets at 9 p.m.
(Tuesday, January 01, 2019 8:48:15 PM)


The Knicks are coming off a blowout loss in Utah, a game in which the Jazz led by as many as 46, and forward Enes Kanter is unhappy with his role.
[SNY Knicks] Knicks' Mitchell Robinson soaks in snow, makes progress with ankle
(Tuesday, January 01, 2019 6:15:16 PM)


Mitchell Robinson is making progress on his way back from an ankle sprain but seeing snow for the first time has the 20-year-old giddy.