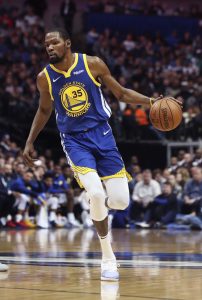 [Hoops Rumors] Five Key Offseason Questions: New York Knicks
(Tuesday, May 28, 2019 5:03:05 PM)


One of the NBA's most iconic franchises, the Knicks have also been one of the league's most dysfunctional in recent years. They're set to enter a crucial offseason after having won between 17 and 32 games in each of the last five seasons. Having been unable to put together a core of promising young building […]
[SNY Knicks] Everything RJ Barrett said about the Knicks (and Brooklyn, too)
(Tuesday, May 28, 2019 9:57:58 PM)


Presumptive No. 3 pick RJ Barrett would welcome the opportunity to play for the Knicks.
[SNY Knicks] NBA Draft prospect Jarrett Culver to work out for Knicks
(Tuesday, May 28, 2019 9:55:11 PM)


Some members of the Knicks front office are high on the 6-6 shooting guard from Texas Tech.
[SNY Knicks] Here are the Knicks' updated odds to sign free agent Kevin Durant
(Tuesday, May 28, 2019 11:05:24 AM)


While Kevin Durant remains mostly idle as the Warriors prepare for the start of the NBA Finals against the Raptors, new odds on where the pending free agent will sign have come out.
[NYPost] RJ Barrett is now hinting at Knicks fantasy: 'New York is my favorite'
(Tuesday, May 28, 2019 4:46:18 PM)


LOS ANGELES — RJ Barrett said all the right things, but you could sense he can't wait to become a Knick. "It would be a lot of fun, definitely, playing in the Garden, those bright lights and they have so much history,'' the Duke swingman said Tuesday at the BDA Sports Management Pro Day at…
[NYPost] Van Gundy, Jackson aren't going there with Kevin Durant doubts
(Tuesday, May 28, 2019 12:22:57 PM)


Former Knicks coach Jeff Van Gundy and Mark Jackson had precious little to say on whether they believe Kevin Durant should seriously consider New York as a prime destination. But the legendary broadcasting duo know the notion the Warriors are better — or as good — without the injured Durant is ludicrous. "He's an all-time…