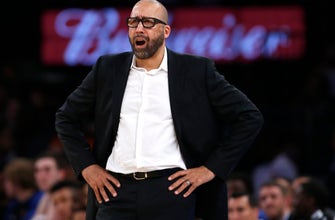 [FOXsports] Knicks intent on rebuilding and not afraid to say it
(Wednesday, October 10, 2018 11:01:46 PM)


The New York Knicks are focused on rebuilding and not being shy about it
[NYDN] With Kristaps Porzingis' progress at a 'slow drip,' new coach David Fizdale working on Knicks stars leadership skills
(Wednesday, October 10, 2018 2:05:00 PM)


A week before the season starts and eight months since his ACL surgery, Kristaps Porzingis' progress remains limited to a "slow drip" that's frustrating the All-Star, according to Knicks coach David Fizdale.

In other words, Porzingis is still not sprinting and his recovery timetable has not been…
[SNY Knicks] SEE IT: Knicks' Ron Baker, Enes Kanter dress up for Halloween
(Wednesday, October 10, 2018 9:54:37 PM)


Ron Baker and Enes Kanter took advantage of a special opportunity to dress up for Halloween on Wednesday when they visited local schools while donning Thor and Venom costumes.
[SNY Knicks] Knicks' Fizdale focused on Kristaps Porzingis' leadership as rehab continues
(Wednesday, October 10, 2018 8:39:41 PM)


Knicks star F Kristaps Porzingis is frustrated he can't be on the court, but Fizdale is working with his leadership qualities off the court.
[SNY Knicks] Mitchell Robinson to return Friday, will spend time in G-League this season
(Wednesday, October 10, 2018 2:15:11 PM)


Knicks rookie Mitchell Robinson (ankle) will make his return to the Knicks for their preseason finale on Friday night, head coach David Fizdale told reporters Wednesday.
[NYPost] Tim Hardaway Jr. embracing being the Knicks' No. 1 option
(Wednesday, October 10, 2018 7:17:47 PM)


There was Tim Hardaway Jr., the second-generation stud. Tim Hardaway Jr., the first-round Knicks draft pick and All-Rookie first-teamer and would-be Carmelo Anthony sidekick. Tim Hardaway Jr., the trade chip for an impetuous Phil Jackson. Tim Hardaway Jr., the D-Leaguer and ground-up Atlanta reclamation project. Tim Hardaway Jr., the opportune free agent and recipient of…
[NYPost] Knicks' tricky plan to get Mitchell Robinson a ton of playing time
(Wednesday, October 10, 2018 1:39:17 PM)


Mitchell Robinson is a major-league prospect, everyone around the Knicks agrees. He just may be spending some time in the minor leagues. Robinson, the Knicks' second-round pick, will return to the floor for the preseason finale Friday against the Nets after missing the past two games due to a sprained ankle. But the absence underlined…