A week ago before the game at Portland, I wrote that if the Knicks could win that game on the road their favorable schedule would set them up to be a game under .500 tonight. And that is the case, hail to R'hllor, Lord of Light (if you don't like Game of Thrones and other pop culture references that I do, my apologies for all the shaking your head that you will have to do when reading anything I write), the Red God! Like Jon Snow will almost assuredly do early next season in GoT, the Knicks have quite an opportunity before them to rise from the ashes and sit at .500 after tonight.
The Bulls played a quadruple overtime game last night and are also on the second night of a back-to-back, presumably more exhausted from their efforts than the Knicks' hop-and-skip to victory over a local Philadelphia high school team. Wait, I'm being told that was an NBA team the Knicks played last night? If you say so. I suppose some of those guys had facial hair but kids are looking older these days.
The Knicks are 1-4 this season on the second night of B2B's, but only one of those games have come at home. The Bulls are the better team, yes, but the Knicks have a helluva advantage over them tonight after Chicago's brutal loss to a considerably physical Pistons team. In the NBA, this is popularly referred to a a "schedule loss" in coaching circles. The unfairness of the schedule usually balances out for most teams, but cramming 82 games into a little over 5 months takes its toll on some nights, and for the Bulls, this figures to be one of them.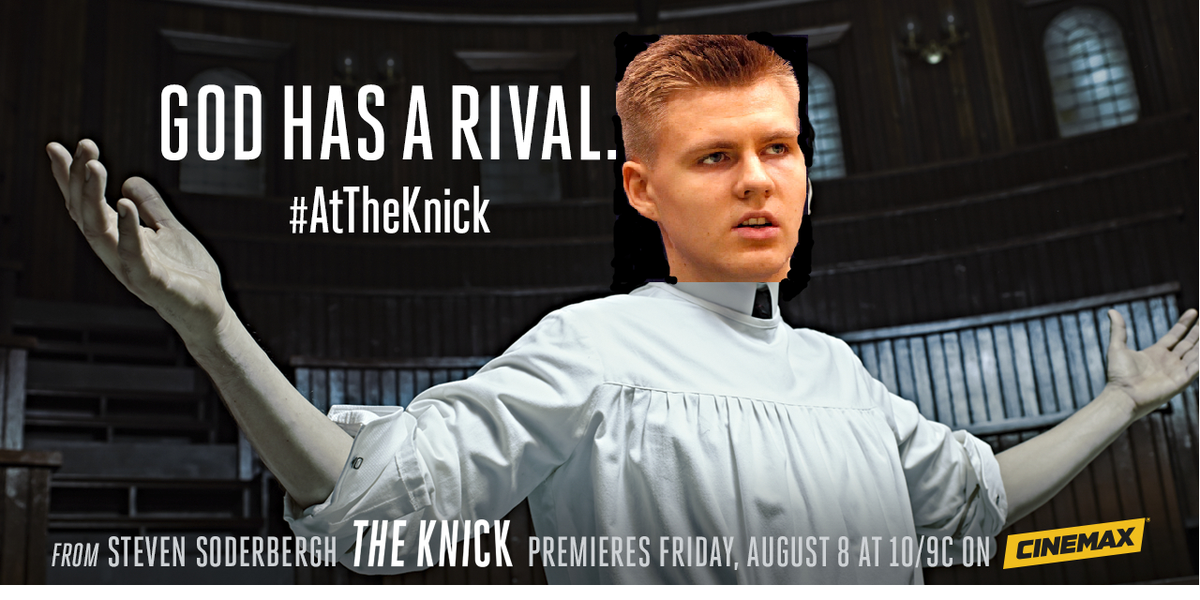 Kristaps was quiet last night, as we can expect he will be as most rookies are at times during a season packed with so many games. But Afflalo continued his recent resurgence and it is good to see him gaining confidence and finding his role in the offense. If he can consistently join Melo and Kristaps as a legitimate third scorer, the team makes another small leap forward in terms of competitiveness this year. There's still a lot to sort out with the bench rotations, but the Knicks do have the makings of a team that could compete for a playoff spot this year, which I've been saying for weeks is what they should be trying to do without a draft pick.
The Knicks are actually only 5 1/2 games out of 1st place in the East, but even if they win tonight, they will still be 11th in the conference standings. That's a shocking amount of parity for a third of the way through the season. For once, the West has a weaker set of teams than the East, most appropriately displayed by the fact that the Knicks would be tied for 6th in the West if they win tonight's game.
Tonight's game is crucial for a lot of reasons, chief of which is obviously to complete The Climb (an episode title from GoT!! Coincidence?……no, I purposefully wrote it because I've been going back through the series on HBO GO and it's just on my mind) to .500 against an exhausted team they have every reason to believe they should beat tonight. But another reason is the upcoming schedule, which is about as brutal as the Red Wedding. Including a home game against Orlando on Monday, who we know from a previous loss is not a bad team, the next 10 games on the schedule are as follows:
@Cleveland
@Atlanta
@Boston
Pistons
@Chicago
Atlanta
@Atlanta
@Miami
@San Antonio
Oof. Tough to find wins there. I mean, 3-7 might be considered an achievement in this stretch. It's been noted that the Knicks have played the easiest portion of their schedule and are about to go into more turbulent weather, but that patch of games is rougher than Ramsey Bolton's treatment of Theon Greyjoy. Man, I hope you guys watch GoT, or you're gonna be pissed about this preview. Apologies again to those of you who don't spend an inordinate amount of your free time watching prestige television, but that's kinda my thing outside of basketball.
AROUND THE LEAGUE
1) There's not a lot going on around the league tonight with only 5 games on the schedule, and the only game on before the Knicks' 7:30 tip is the Lakers at Oklahoma City. I suppose you can find some interest there in simply watching Kobe play in his final season, or watching Durant and Westbrook which is always a treat, but I wouldn't blame anyone for deciding to watch one of the college bowl games instead. Or rake the yard, or do some more Christmas shopping, or ponder the foundation cracks on the ceiling of your laundry room. Really any other chosen activity is an appropriate alternative to spending 150 minutes of your life watching the Lakers get annihilated.
3) The Pacers/Grizzlies game could be interesting, but Memphis has gone from losing their balance to a full-sprint head-first dive onto a slip-and-slide and on the second night of a B2B after losing to Dallas figures to get their heads caved in by a surprising Pacers squad. The Pacers have retooled their roster with interchangeable players capable of shooting the 3 and guarding multiple positions, and Memphis is still stuck in 1995 and cannot beat the teams playing the modern Golden State-inspired game. I have always liked Memphis because of their blue collar nature and raucous home fans (I've been to like five Memphis games and it's always a blast on Beale Street, believe me), but I think this game gets out of hand and the Grizz continue their backslide in the West hierarchy.
2) I am interested in the Clippers/Houston game, for one because I hate both of those teams and one is guaranteed to lose, but for two because they legitimately hate each other after last season's 7-game playoff series that the Clippers choked up like a Lego that an infant in their orally-fixated phase found too interesting not to try and swallow. Should be some very real angst in this game and it's one I'll be watching from afar like the Three-Eyed Raven. Okay, I promise that was the last GoT reference.
PROMISE IMMEDIATELY BROKEN, LIKE EVERYONE IN KING'S LANDING, I AM A LIAR! HA! GOTCHA! GAME OF THRONES!
Enjoy the festivities, Knicks fans!