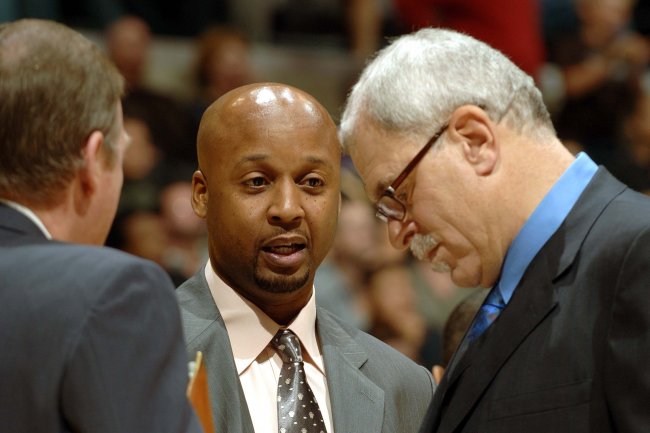 If you looked up "Phil Jackson" in the Urban Dictionary (do not look up Phil Jackson in the Urban Dictionary) I imagine the definition would essentially read "winning." Phil Jackson has won a lot of championships, and so he's become synonymous with winning. Even though it's a bit of a tautology, It's a reputation he, himself, has earned, but one his protégés have not.
Phil's coaching tree is more like a Whomping Willow which includes: Kurt Rambis, Jim Cleamons, Bill Cartwright, Frank Hamblen and…Brian Shaw. The jury is still out on Shaw's coaching acumen, but turning a 50-plus-win team into a 36-win team isn't a great first impression. But that's what makes the Brian Shaw to New York situation so interesting. Why are the Nuggets dead-set on holding onto a Phil Jackson's young squires when the rest of the branches the tree has a combined winning percentage of 46 percent?
Whenever a head coach or a manager is traded–which is a very rare occurrence–they've typically already established themselves as elite coaches or managers either by winning a championship(s) or just winning a lot of games. That is not the case here. You trade draft picks and cash for elite head coaches like Doc Rivers or Stan Van Gundy or Tom Thibodeau. But you can't do that for somebody like Shaw, and it looks like the Knicks, outside of Phil, understand that.
Still, being able to trade coaches is weird. It's weird because you can't trade players for coaches, but you can trade cash and draft picks (which turn into players) for them. It's also usually an awkward situation that is littered with organizational drama (see: Gruden, Jon and Rivers, Doc.) It's typically not a good look for you organization if your head coach is trying to get traded to another team, which is another reason it's such a rare occurrence.
The Knicks want Shaw, but they don't have the assets to get him. For the Clippers to get Doc they had give up a 2015 first-round pick that was unprotected. The Orlando Magic had to give up multiple draft picks and cash to the Miami Heat for Van Gundy, and he had already been replaced in Miami. Trading for a guy with only one year of head coaching experience and sub-.500 record shouldn't require a team to give up multiple draft picks and cash. Sure, it's a small sample, but Shaw is not the hot commodity he once was when he was an assistant in Indiana. The Knicks would be foolish to give up anything but cash to bring him aboard (although that's also their only option).
The Knicks aren't the only team trying to trade for another team's head coach, but they're not swinging for the fences (more like just trying to get on base) like the Memphis Grizzlies and Minnesota Timberwolves are. The Grizzlies reportedly want to make a major play for Chicago Bulls head coach Tom Thibodeau, while the Timberwolves are in deep discussions to trade for current Grizzlies head coach Dave Joerger. Yes, it's as confusing as it sounds.
As confusing and as crazy as those situations are, it's still easy to see why both teams are making the choices they are. Stealing Thibodeau away from Chicago would be a major coup for Memphis. Flip Saunders needs to make a major splash to try and make a last-ditch effort to convince Kevin Love to stay — Joerger qualifies as a major splash. Giving up a couple of draft picks and cash for an elite coach(s) when your roster looks like Memphis' or Minnesota's that's OK. When your roster looks like the Knicks', it's not OK. Shaw isn't the answer in New York, but Thibodeau and Joerger could be in Memphis and Minnesota.
Phil appears to be dead-set on hiring a head coach that he can mentor and mold. Perhaps that potential synergy between GM and head coach is what finally turns Phil's coaching tree around. Maybe Shaw can still be an elite head coach in this league if he has Phil around to guide him once again. It was clear that the current Nuggets roster doesn't mesh with Shaw's vision, but how long are the Nuggets and/or Shaw willing to wait turn that vision into reality? If Shaw doesn't turn it around next season, would it really be that shocking if the Nuggets decided to fire him? I tend to think no, especially when you look at the Golden State situation, because head coaches in this league typically have a very small window of time to make significant progress.
Brian Shaw is probably not going to be the next head coach of the New York Knicks, and that's OK. The Nuggets have all the leverage, and the Knicks don't have the assets to make it happen. That's also OK. This is perhaps the one instance that the Knicks' lack of draft picks is a good thing because it'd be a mistake to give up multiple draft picks for a head coach with his track record.
Shaw and Phil could be great together in New York, but so could Fisher and Phil — without the cost. However, wrestling Fisher away from the Oklahoma City Thunder could also be a challenge for Phil. According to Sam Amick of USA Today, Fisher could return to the Thunder next season as a player/assistant in a role similar to Juwan Howard's role in Miami. It's a win-win situation for Fisher. He either stays in Oklahoma City to get some coaching experience with a franchise that adores him, or goes to New York where Phil would also love to have him. Fisher can't lose, but the Knicks can.
Then there is Tyronn Lue, an assistant under Doc Rivers in Los Angeles, who you would think would jump at the opportunity for the Knicks' head coaching position, if he's offered the gig. Lue is just 37-years-old and has played and coached under Phil Jackson, Rivers, Jeff Van Gundy and other great current and former head coaches in this league. Of course, Lue, like all the other Knicks' head-coaching candidates, is an unknown, simply because he hasn't been a head coach in this league. If Fisher elects to return to Oklahoma City, you would expect Phil to turn Lue. It may not be a sexy hire, but you could argue Lue is the most qualified candidate of the bunch.
I have no idea which route the Knicks are ultimately going to take, but I'm going to go out on a limb and say the Knicks' next head coach will be one of Phil's former point guards.