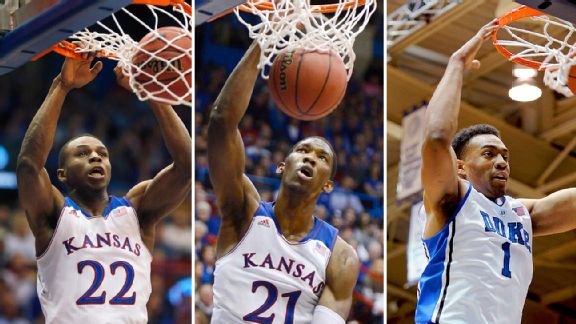 Note: I'm not a fan of putting together mock drafts based solely on what I think is going to happen. That's boring. Instead, I put together a mock draft that's a combination of what I think teams will do and what I'd like to see them do. 
Also, the Knicks will have a pick in this mock draft! The team may not have a pick as of right now, but Phil seems determined to purchase at least one pick in either the first or second round. Snagging a first-round pick seems highly unlikely, but purchasing one the several second-round picks the Philadelphia 76ers own is plausible. In this mock, I have the Knicks successfully purchasing the 32nd pick in the draft from the Sixers. 
1. Cleveland Cavaliers- Joel Embiid, C, Kansas
Analysis: It took every fiber of my being not to put Noah Vonleh here because Cavs. If Embiid's back checks out, he should be the pick. The only problem with picking Embiid is that the Cavs would have a front court that would include Embiid, Anthony Bennett, Tristan Thompson, Anderson Varejao and Tyler Zeller. That's a lot of minutes to divvy up. At least one of these big men would need to be traded for a quality wing, or more picks. It's a good problem to have, though.
2. Milwaukee Bucks – Jabari Parker, SF/PF, Duke
Analysis: Bucks General Manager John Hammond is not good at his job, for the most part, but he does draft well. Drafting either Parker, or Wiggins, is a win-win for different reasons. If you draft Parker, you have a nice offense-defense combination for years to come with Parker and Giannis Antekounmpo. If you go Wiggins, the Bucks may never score, but a front court core of Giannis, Wiggins and John Henson would be a nightmare for opposing offenses. Still, I think the better option for the Bucks is to take Parker to play the 4 and build around him from there.
3. Philadelphia 76ers – Andrew Wiggins, SF/PF, Kansas
Analysis: I really, really like the long-term fit of Wiggins with Philadelphia. Even with Wiggins, Nerlens Noel, and Michael Carter-Williams the club is still a couple years away from competing for a playoff spot, so Wiggins won't have the pressure to flourish right away, like Parker in Milwaukee or Embiid in Cleveland. With this pick, the Sixers will have a really good shot of having back-to-back lottery picks win Rookie of the Year, either Wiggins or Noel,  so can we stop the, "tanking is bad" narrative, please?
4. Orlando Magic – Dante Exum, PG, Australia 
Analysis: The Magic are quietly getting really close to putting together a young, fun roster that could be really dangerous in a couple of years. Victor Oladipo was the easy and correct pick last year. Dante Exum, if he's there, is the easy and correct pick this year. Exum, Oladipo, Nikola Vucevic and Tobias Harris is a solid foundation, and they still have a very nice trade-asset in Arron Afflalo that could net them more picks and quality young players sooner rather than later. Keep doing what you're doing Rob Hennigan.
Utah Jazz trades 2014 No. 5 pick to Toronto Raptors for 2014 No. 20 pick, 2015 first-round pick.
5. Toronto Raptors – Noah Vonleh, PF/C, Toronto Raptors
Analysis: #TakeThatMasaiUjiri!!! The worst spot to be in this draft is No. 5, and the Jazz got saddled with it. They have a bunch of quality young players, but really need one potential star — they're not going to find him here. Rather than reach on a Marcus Smart, Noah Vonleh or Aaron Gordon the better option is to trade out for more picks and try their luck in the lottery again next year.
The Raptors reportedly want to move up, and this is probably as high as they can go. The Raptors are coming off a 48-win season, but are still one or two players short of being a contender in the Eastern Conference. Amir Johnson and Patrick Patterson are quality rotation bigs, but the Raptors could really use a big with high offensive upside — Vonleh fits that bill. A Lowry/Ross/DeRozan/Vonleh/Jonas core is incredibly intriguing going forward. Remember, don't ever doubt Masai Ujiri.
6. Boston Celtics – Aaron Gordon, SF/PF, Arizona
Analysis: A lot of writers and analysts think the Celtics or Lakers trade out of No.6 or No.7, but I don't think they will. The Celtics and Lakers should go BPA, and maybe flip them for a star down the road. I prefer Randle's game, but Gordon is probably the more likely of the two to end up in Boston with a defensive-minded coach in Brad Stevens.
7. Los Angeles Lakers – Julius Randle, SF/PF, Kentucky
Analysis: I don't think Randle is going to be a star in the NBA, but I think he could be the third or fourth best player on a contender. The Lakers lack talent up front (Hi, ex-Knick Jordan Hill!), so drafting Randle would be a step in the right direction.
8. Sacramento Kings – Marcus Smart, PG, Oklahoma State
Analysis: I could definitely see the Kings trading out of this spot, but I don't think they should if Marcus Smart is here at No.8. Isaiah Thomas is a great 6th man, but Kings' head coach Mike Malone you'd think would love a point guard like Smart to pair next to Ben McLemore.
9. Charlotte Hornets – Doug McDermott, SF/PF, Creighton
Analysis: The Hornets are in good shape defensively with Steve Clifford in charge, but they really need more guys who can space the floor, so I like McDermott a lot here. I'm not sure if he's a 3 or a 4 in the NBA, but I do think he's a guy who could contribute right away for a team that needs shooters like Charlotte.
10. Philadelphia 76ers – Dario Saric, SF/PF, Croatia
Analysis: Even if Saric hasn't fully clarified his intentions to play in the NBA next season, his talent merits being taken at No. 10 by the Sixers. It's going to be another developmental year in Philly, so worst-case scenario, they can still afford to wait one more season for the Croatian point forward.
Denver Nuggets trade No. 11 pick, Ty Lawson, JaVale McGee, Danilo Gallinari pick to Brooklyn Nets for Deron Williams, Brook Lopez, Andray Blatche and a 2018 first-round pick.
11. Brooklyn Nets – Jusef Nurkic, C, Bosnia
Analysis: The Nuggets need a serious roster shakeup, and the Nets are interesting match. I don't think Lopez or Deron are untouchable, and I think Denver would be a good landing spot for the duo. On the flip side, the Nets would get a lot younger with Lawson and Gallo, so that's a major plus to a team with too many veterans. You need a balance of youth and veterans, so I think both teams would benefit greatly from a deal like this.
12. Orlando Magic – James Young, SG/SF, Kentucky
Analysis: I think there's a big possibility Afflalo is traded this summer, and the Magic can find his replacement here in Young. The one concern I have with Young is whether or not he'll be able to guard NBA forwards. On the flipside, the Magic really need to surround Oladipo and Exum with shooters who can space the floor to give them open lanes to get to the line or find open guys on the perimeter. Out of all the 3-and-d guys available, Young probably has the highest upside.
13. Minnesota Timberwolves – Nik Stauskas, SG/SF, Michigan
Analysis: I have no idea what the Timberwolves are going to do here, but they definitely need outside shooting, so I like Stauskas here for the Wolves. If the Wolves decide to keep Love around for next season, they have to surround him with better shooters. If Chase Budinger can stay health lineups with Chase and Stauskas on the floor could be lethal for opposing defenses.
14. Phoenix Suns – Gary Harris, SG/PG, Michigan State
Analysis: A lot of quality wings are going to go off the board here, and Harris makes the most sense for Phoenix. Harris gives Phoenix a nice a combo guard to backup Eric Bledsoe and Goran Dragic going forward. I don't think Harris profiles as a starting 1 or 2 in this league, but in a situation like this where he can play next to Dragic or Bledsoe at all times would be the perfect situation for a player like Harris.
15. Atlanta Hawks – Rodney Hood, SG/SF, Duke
Analysis: DeMarre Carroll had a more than solid season, but he's probably at his peak right now/is best served as a defensive hellion coming off the bench. I think Danny look to get younger at the 2 or 3, and draft the best 3-and-D guy available. In this case, it's Rodney Hood. Also, if John Jenkins can stay healthy next year a wing tandem of Carroll, Korver, Hood and Jenkins would put a ton of pressure on opposing defenses from downtown.
16. Chicago Bulls – Zach LaVine, SG/PG, UCLA
Analysis: I was really tempted to go Tyler Ennis here, but I don't think we're at that point with Derrick Rose where the Bulls need to be looking for his replacement — maybe if things go sour again next season.I could also see the Bulls grabbing a 4 or 5, but I think that largely depends on whether or not Mirotic comes over next season. LaVine has a lot of bust potential, but this would be a really good situation for him. The Bulls need more wing help with Luol Deng's departure, so I think this works out well for both sides.
17. Boston Celtics – Tyler Ennis, PG, Syracuse
Analysis: I think Rajon Rondo's days in Boston are numbered. If so, Ennis makes a lot of sense here. The Celtics need more dynamic offensive players, and Ennis definitely fits that bill. I wouldn't hand him the keys right away, either, so they could keep Rondo around for another season until Ennis is ready. Kind of like the situation in Atlanta with Jeff Teague and Dennis Schroder.
18. Phoenix Suns – Kyle Anderson, SF/PF, UCLA
Analysis: More wings for Phoenix! It seems unlikely the Suns keep all these picks, but unless they're making a deal for Kevin Love, or any other superstar, their best bet is to keep going BPA — that's why I like Anderson here. What the Suns got out of Gerald Green this year was incredible, so I'd love to see them get their hands on a player like Anderson to develop from the start.
19. Chicago Bulls – Adreian Payne, PF/C, Michigan State
Analysis: Drafting Payne, along with Mirotic coming over, would signal the end of the Carlos Boozer Era in Chicago, which I don't think would be an issue for most Bulls' fans. Payne would add a dimension to the Bulls front court they've missed since Boozer's decline. Anybody that helps make the Bulls more watchable offensively — I'm all for it.
20. Utah Jazz – Kristaps Porzingis, PF/C, Latvia 
Analysis: I've started to notice I may an unhealthy obsessions with tall, lanky, stretch 4s who can shoot 3s, and defend, in the NBA. Porzingis doesn't turn 19 until August, but is already 7-feet-tall and 220 pounds. He has the Andrea Bargnani frame, so that's a bit scary, but if Porzingis lucks into a situation like Utah I think he could be the kind of player people hoped Bargnani would become.
21. Oklahoma City Thunder – Clint Capela, PF/C, France 
Analysis: Capela is one of the more raw prospects who will probably have to be brought along slowly by whichever team drafts him. In OKC, he can play behind Serge Ibaka, Nick Collison, Adams and Kendrick Perkins until he's ready to become a serious contributor for the team.
22. Memphis Grizzlies – Jordan Adams, SG/SF, UCLA
Analysis: The Grizzlies don't need a lot, but they do need wing help to limit Tayshaun Prince's minutes, and Adams would be a nice fit for this team. Adams is a really talented offensive player who shot 35 percent from 3 last year, can rebound, and is a solid passer for his position. The Grizzlies need all the floor spacers they can get, and Adams fits that bill.
23. Utah Jazz – Bogdan Bogdanovic, SG/SF, Serbia
Analysis: Bogdan Bogdanovic might be my favorite player in this draft for his name alone. I like this pick for Utah because it's basically Gordon Hayward insurance, in case the front office allows him to bolt this summer. Either way, the Jazz need more wing depth so Bogdanovic makes a lot of sense here.
24. Charlotte Hornets – P.J. Hairston, SG/SF, UNC
Analysis: The Hornets got McDermott earlier in this mock draft, and now they'll get another floor spacer in the backcourt with Hairston. I was much more of a Reggie Bullock guy last summer, Hairston's former teammate at UNC, because of his lethal 3-point shot. Hairston flourished in the NBA D-League this summer, though, and the Hornets could use another combo guard to play off Kemba Walker. Kind of like Reggie Jackson's role in OKC.
25. Houston Rockets – Walter Tavares, C, Cape Verde
Analysis: The Rockets really want that third superstar, but they're not going to find him with the 25th pick in the draft. But they can find Omer Asik's long-term replacement at the center position in Tavares. If the Rockets want that third superstar they'll have to trade Asik to make it happen, so they might as well find his replacement here.
26. Miami Heat – Shabazz Napier, PG, UConn
Analysis: The Heat, and Mario Chalmers, have a tough decision on their hands this offseason as Chalmers can move on this summer if he wants to get paid. Chalmers has a small role with the Heat, but he's effective at it and plays within their system really well. That said, he's still replaceable and if some team like the Milwaukee Bucks wants to give him a nice payday you let him walk and find a perfect replacement in Napier here.
27. Phoenix Suns – K.J. McDaniels, SF/PF, Clemson
Analysis: K.J. McDaniels seems like the perfect guy to have on your team in a pickup game — a lot of energy, insanely athletic, and an above-average defender, but I'm still not high on him as an NBA player. His game kind of resembles DeMarre Carroll, and if McDaniels ever develops a 3-point shot, maybe he can get there. What McDaniels can do on the basketball court is exactly what the Suns like in their wings.
28. Los Angeles Clippers – Jarnell Stokes, PF/C, Tennessee
Analysis: The Clippers only glaring weakness is their front court depth behind DeAndre Jordan and Blake Griffin. Most analysts don't have Stokes going in the first round, but he'd be a really nice fit in Los Angeles, I think. If Lob City is still a thing, how can you not draft Stokes here?
29. Oklahoma City Thunder – Elfrid Payton, PG, La-Lafayette 
Analysis: Derek Fisher is probably retiring, and I'm not convinced Reggie Jackson will be in Oklahoma City for the long-term. The Thunder are probably going to need a new backup for Russell Westbrook, and Payton fits that bill.
30. San Antonio Spurs – Mitch McGary, PF/C, Michigan
Analysis: What a difference a year makes. McGary probably would have been a lottery pick a year ago, but this year he'll be lucky to go in the first round of the draft. San Antonio, like OKC, don't need much but adding McGary to the front court of Tim Duncan, Tiago Splitter, and Boris Diaw should only help things. His injury concerns are troublesome, but the Spurs can take the risk.
 *Knicks purchase Sixers 32nd pick in the draft for the amount James Dolan refused to add to Steve Kerr's offer sheet.*
 32. New York Knicks – Vasilije Micic, PG, Serbia
Analysis: Phil reportedly wants to buy either a first-round or second-round pick in this draft, but the second-rounder is more likely. The Sixers have more second-round picks than Cersei Lannister has glasses of wine before noon. If I had to bet, Steve Blake is the starting Knicks point guard on opening night next year, and whether or not Phil can send Raymond Felton packing this offseason (doubt it), finding his long-term replacement has to be a part of New York's agenda.
The Knicks could go one of two ways here, and I like both options, by either taking Micic or Nick Johnson with the pick here. Johnson played primarily at the 2 in college, but DraftExpress thinks he could make the transition to a point guard in this league. He's smart, athletic and can shoot the basketball. Still, it'd be risky to plan for Johnson to be your point guard of the future. For that reason, I think Micic should be the pick here. Micic is 6-foot-5, (Phil's Zen senses are tingling), a natural point guard, excellent passer, unselfish, and is an above-average 3-point shooter. There's a lot to like about Micic's game, but most importantly it's a style that can work within the Triangle.