Well, I think it's safe to say that we are all shocked and left to ponder how the Knicks uncharacteristically spent the 4th quarter collectively forgetting how to execute an NBA offense. The Knicks, a model of 4th-quarter consistency in this league, finally succumbed to the laws of mathematics and played poorly to finish the ga—okay, that's enough blatant sarcasm, even for me. The Knicks tripped and fell down the metaphorical flight of stairs that is the 4th quarter for what seems like the 76th time this season. I swear, they might as well switch the broadcast to Benny Hill music running on a loop instead of Mike and Clyde's commentary. It would be more fitting. Here is a dog that cannot understand why the Knicks insist on hurting themselves.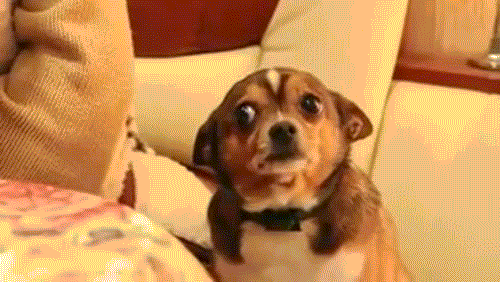 I may as well admit my own eff-up since I'm laughing at the Knicks face-planting from my spot on the floor nursing my own aching mug. I didn't do enough pregame research to know Kristaps wouldn't play and so I wrote my pregame article with a tilt towards paying attention to him and Dirk's matchup. What was right, however, was the saddest part of talking about that potential matchup, which totally makes sense looking at the morose nature of this game. The fact that there are a dwindling few of these games left between the two players was made more evident by Porzingis' absence, because that is one more opportunity he had to face Dirk down the drain. Maybe the two of them were able to get dinner or something? I just hope Kristaps can forge a relationship with him, because I think Dirk would be a great mentor for the kid, just to stay humble and keep grinding and working. This isn't going to happen overnight, or in a year or two, but in five years we could be looking at one of the best players in the league if all goes well. We need as much good karma in that corner as we can get, and Dirk has more good vibes than Bill Walton dancing to a Grateful Dead song at a charity auction.
Now, we come to the scene of the crime. I've collected a disturbing amount of evidence against the Knicks in their attempted murder of the game of basketball. What follows is the play-by-play of the 4th quarter for the Knicks, featuring all 9 turnovers, 6-18 from the field and Aaron Afflalo taking a wet dump all over any chance the Knicks had of closing this game. But first, a distracting picture of something boring to give you time to get any children out of the room before viewing the latest atrocity committed against basketball by the Knicks in the 4th quarter of a close game. Seriously, no child should have to see this. It's better they just not know.
11:47 Langston Galloway misses 3-point shot
11:27 Langston Galloway offensive foul
10:59 Carmelo Anthony makes 2-point shot
10:23 Carmelo Anthony offensive foul
10:03 Robin Lopez makes 2-point shot
9:33 Robin Lopez misses 2-point shot
9:18 Langston Galloway double-dribble turnover
9:00 Aaron Afflalo misses 3-point shot
8:40 Aaron Afflalo misses 2-point shot
8:00 Carmelo Anthony makes 2-point shot
7:22 Carmelo Anthony misses 3-point shot
6:54 Sasha Vujacic loses ball out of bounds
6:22 Sasha Vujacic misses 2-point shot
5:54 Aaron Afflalo steps out of bounds
5:24 Aaron Afflalo makes lay-up (!!!)
4:43 Robin Lopez bad pass (stolen by Mavericks)
4:15 Langston Galloway misses 2-point shot
3:53 Derrick Williams 2-2 FT
3:15 Aaron Afflalo traveling
2:42 Carmelo Anthony misses 2-point shot
2:40 Robin Lopez put-back for 2 points
2:05 Aaron Afflalo misses 3-point shot
1:00 Carmelo Anthony converts and-1 for 3 points
0:26 Carmelo Anthony misses 2-point shot
0:18 Carmelo Anthony misses 3-point shot
0:09 Carmelo Anthony loses ball out of bounds
0:00 Langston Galloway misses 3-point shot
Looking at that chart is basically the equivalent of watching a toddler determined to try to tie their own shoes, so it's excruciating by any standard. I would follow it up with a picture of Kurt Rambis looking confused with a bit of spittle on his chin sparkling with HD-given clarity, but I'm not that cruel.
The bright side of all of this is that it was pretty plain to see Aaron Afflalo giving about as much effort as those 30 guys at construction sites watching the one guy operate the crane. He's not exactly in open rebellion, but he's putting on a world-class pouting clinic any girl entering middle school should take notes on. If this all means we escape his contract and get a redo at the 2-guard next year and some cap relief, I'll consider the last month of the season a success no matter how many games they set fire to.
I really don't have much else to say right now. The season is mercifully coming to a close, though, and we can begin to legitimately look at how this roster and coaching staff might be shaped going into next year. Everyone has an opinion on what should be done (or just as importantly, not done), but I'd like to hear any thoughts on that from you guys since talking about the actual games isn't very interesting at this point. The most we can hope for is to play playoff spoiler to a team or two down the stretch, but the Knicks just butt-fumbled a damn good opportunity to do that to the Mavericks, who are hanging by a thread themselves.
Anyways, Melo did go 11-22 for 31 points. So credit where it's due. But we all know those last two shots were awful and so did he—the smile on his face told the story pretty plainly. Melo is smart enough not to take this too seriously, because all he needs to do is finish the season healthy and look forward to the Olympics, where I hope he plays 14-18 minutes a game max. Light jogging is all I want to see; ever since Paul George, that shit scares the hell outta me.
Until next time, Knicks fans. Only 6 more to go. Cherish it.
Because do you hear that drumming in the deep?
That boom, doom, boom?
That's baseball season. An ancient evil none can withstand.
It is coming.