So I currently live near Leesburg, Virginia, which isn't interesting for the vast majority of the year, but today it definitely is, as we are expecting #SnowtoriousBIG to run up in our club iced out from head to toe to dump 2 feet or more of Cristal (which is what I will call snow from now on) on top of our domes. Shit could get real, ya'll. With that being said, I'm well-stocked on the necessities (alcohol and fully-charged portable electronic devices), but if my power goes out, be patient on the recap. I might not even get to watch the game live depending on what kind of signal I'm able to get without wifi should the ship go down tonight. I'm optimistic that Snowtorious BIG will be kind enough to leave the lights on, though. Always struck me as the kind of guy who would pistol whip you and take your chain and wallet, but leave you with 20 bucks so you can at least get something to eat and a pint when you wake up.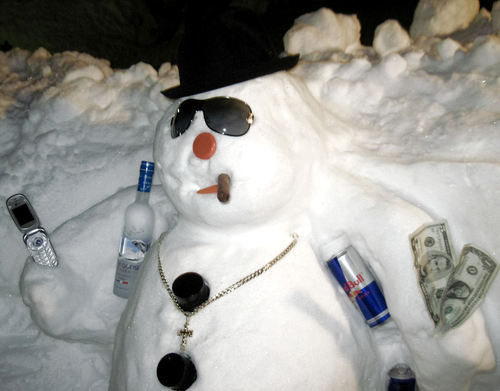 He loves it when you call him Big Papa, but he loves it even more when it's below 32 degrees Fahrenheit. Give him the loot.
So when it comes to Mount .500, we've reached the summit again. It's about damn time to get on the other side of this God-forsaken mountain and see the sun rise on an above-.500 Knicks team, am I right? The Knicks are 2-0 since Melo's return to the lineup in a pair of home games that went to overtime and double overtime respectively. Exciting home wins for sure, and the Knicks now welcome a team from LA right before a weather system wearing a wool cap and torn jacket and never found without a yo-yo and approximately 60 safety pins, Winter Storm Jonas, descends on the area to ask if he can crash on your couch for an indefinite amount of time. This group of referee-trolling punks who flop more than a salmon on a sidewalk may as well stay at the hotel and pray for a swift death, there's no way these LA boys can survive a winter storm who definitely heard that band's album before you did.
I make no apologies when I say that I despise the Clippers. They are a team a lot of people don't like, and they've earned it. I would say in the West that nearly every regular playoff team of the last few years unanimously hates the Clippers more than any other team in the conference. Oklahoma City, Golden State, San Antonio, Houston, Memphis and certainly the Dallas Mavericks after the events of the summer all hate their guts. It's amazing how the Clippers have managed to make themselves such a target of not only those teams, but of referees, coaches, team owners and even agents. Do a Google search for "everyone hates the Clippers" and you'll get an article from every sports media outlet in the country detailing the reasons for this, so I won't go too much into it, but they really can get on your nerves. Chris Paul is a great player and will probably eviscerate the Knicks' guards tonight, but the dude is infuriating to watch go against your team. We will all experience this tonight, "The Clipper Effect", and it's not limited to just the human flop machine Chris Paul; the whole team gets in on the act of playing like assholes. Side effects of watching your team play the Clippers include remote destruction, sleepy leg, furrowed brow, screaming heard through the walls, tangle lip, premature sobriety, flop-or-block anxiety disorder and seven years of bad harvests.
The Clippers traded Josh Smith back to Houston this morning for a bruised Granny Smith Apple and an unclear amount of dead crickets in a mason jar, but the Clippers are almost certainly coming out ahead in the trade if the cricket body count exceeds 15. Blake Griffin also won't play tonight, so that's a plus, because as talented as he is he has picked up some tricks from Uncle Chris and he does several ref-baiting acting jobs a game as well. But the Clippers are 10-2 since Blake went down with a quadriceps tear, albeit mostly against some of the league's worst teams, and it is often argued in NBA circles that they are better without Griffin because of the problems with his spacing with DeAndre Jordan. The Clips are on a 2nd night of a BTB, losing to the Cavs last night 115-102. CP3 had 30 points and 9 assists to lead the Clippers, and also led them in minutes with only 33. Doc Rivers is an annoying coach just like his players, but the man was smart to save his team's legs for tonight, understanding the game against the Knicks was more winnable than the game against the Cavs. I'm guessing Austin "can I stay up late tonight, Dad?" Rivers will be ready to go after an afternoon nap and a glass of Ovaltine, which is a good thing for the Knicks because he already used up his good game for the month.
The Knicks will go to MSG today a half-game out of 8th place in the East, and by the end of the night could slide into the 8 spot. The Clippers pose a lot of problems because of Chris Paul, but the Clippers will have no answer for Porzingis or Melo tonight. Reddick, an often underrated defender in addition to his offensive accumen, can probably make Afflalo a non-factor tonight, but what will be important for the Knicks will be to stop Reddick's 3's. The Cavs did a good job of keeping him off the 3-point line last night and limited him to 2-6 shooting beyond the arc. Reddick leads the league in 3pt% at 49.7%, which is an absurd number. If he has space, you can pretty much start etching the 3 points in stone. Afflalo may end up being put on CP3 and if Calderon is "hidden" on Reddick (there's nowhere to hide Calderon against the Clips, Reddick is one of the best 2-guards in the league and we're just going to have to hemorrhage points somewhere), he will have to stick to his hip. I would love to see Galloway and Grant get minutes simply for their defensive capabilities on the Clipper guards, which like most backcourts the Knicks encounter, will pose a significant problem.
Aside from Crawford off the bench, yet another Clipper Floposaurus, the Clips don't have much outside shooting beyond Paul and Reddick. The Knicks have been one of the NBA's best 3-pt defenses throughout the year, right now sitting at 4th with an OPP 3pt% of 32.4%, and strict attention to the principals of keeping their opponent off the 3-point line will be key tonight. I say never switch any screen with Reddick no matter what action the Clippers try to get him free, and let CP3 do his thing as much as he wants with the P&R jumpers he cans at a crazy efficient rate. The Knicks will have a much better chance of winning the game if CP3 scores 35 and Reddick gets 15 than if they both go for 25. The math is the same, sure, but the Clippers aren't as good when CP3 has to start playing hero ball every possession because the passing lanes are clogged up.
This is a good time to catch the Clippers, because as a sandwich game between games at Cleveland and Toronto, this is the definition of a trap game, and the Knicks need to take advantage of a hopefully tired and shivering Clippers team tonight and get over .500. It would be a huge mental hurdle for the team, I think, to see more wins than losses in the standings tomorrow morning, and I think they have a great opportunity to do it tonight.
Enjoy the game, you crazy people, and if you get hit by Jonas tonight, just take it in stride and don't hit him back. He's not mad at you, he's mad at his parents. God, they never let him do anything!